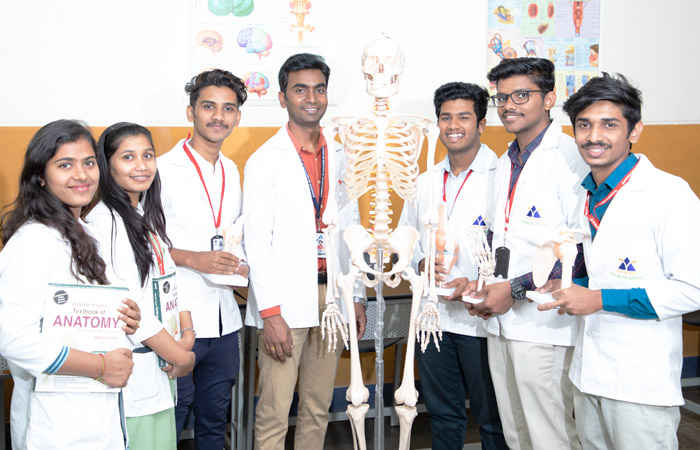 MBBS vs Physiotherapy- Which is a better option?
Board exams are done! Results are out & here comes the call. Family, friends and relatives all want to know our result, what are we doing next and which college are we joining. Wait a minute. Take break. Results are in hand, so we have definite answers.But answering what we are doing next isn't always an easy explanation. Because at 18 we cannot decide for an entire lifetime. Till our 2nd PUC, we are not mature enough to think beyond our imagination. What we do next is what defines our life and career.
Acharya Institutes is one of the top Physiotherapy colleges in Bangalore. So let me take you through some points to ponder that can probably help you make the right decision.
Self-Analysis
Someone has rightly mentioned, "A physiotherapist has the brain of ascientist, heart of a humanist and hands of an artist". The physiotherapy treatment needs passion more than anything. If you think you have the drive to work hard, to put efforts into the long run. If you feel you can care and has hands to cure under then a career in Physiotherapy treatment one of the best
Physiotherapy colleges in Bangalore is a golden opportunity, you are choosing the right career. So then why not the other streams especially the more demanding MBBS? Considering the competition in the process that leads to MBBS, is it not better to be in a more practical field. Also, one thing leads to the next, think about the years you want to invest in studying. Analysing yourself as to how competitive you can be and how many years you can invest, you could decide. That involves the first step.
EVALUATE YOUR STRENGTHS AND WEAKNESS
Teamwork is an ability itself. As a physiotherapist, opportunities require you to work in multidisciplinary clinics, in corporate hospitals, in the specialist academy like a sports academy and even government hospitals and institutions. In such organizations, we work with our skills and grow as a team for the betterment of our patients. Acharya is among the top Physiotherapy college in Bangalore, offering various physiotherapy courses. Versatility is pouring when it comes to physiotherapy. In which profession do we have the option to work under the above-mentioned areas other than obviously teaching institution and an individual clinic. Again, why not MBBS, it's simply the above reasons. In physiotherapy courses, we closely work with other professions too to help the patient return to his ability. Also, in a career spanning so many years, there would not be any boredom considering the versatility to work.
DEMANDING PROFESSION IN INDIA:
The Physiotherapy profession has a budding environment in India. With the ever-growing health sector, physiotherapy is involved majorly. In post covid situation the demand has outgrown, join one of the best Physiotherapy colleges in Bangalore, at Acharya. Physiotherapy deals with musculoskeletal, geriatric, neurological, pediatrics, women's health, community health and cardiorespiratory sectors also. Specialties in the above sectors can be done in India or abroad depending upon the interest of the candidate. Even with a bachelor's degree, the above areas can be treated. Further physiotherapy is also offered a doctoral degree both in India and abroad.
DEMANDING PROFESSION OUTSIDE INDIA
Taking the case scenario in foreign countries, though each country has its own regulations and guidelines, each of them has ample opportunities to study and work. This is not seen in any other medical profession. The demand is so high that yearly many Indian students go to the western countries for higher education as well as to work. With evidence-based kinesiology, physiotherapy has been a regular aspect of the protocols. so, at Acharya, we are among the best Physiotherapy college in Bangalore. For sports lovers, this may be an interesting option too, since especially the western countries have prioritized sports injury rehabilitation. Is not that cool to do what you love and being involved in the same. So, when, and why would one need physiotherapy treatment? Physiotherapy as a treatment protocol can provide pain relief to patients of all ages, no matter the variety of injuries or ailments. Post the main consult and get help from a licensed physiotherapist and get a treatment plan that works with your diagnosis, then you are ensured with a healthy and active life in the future. Learn Physiotherapy at top Physiotherapy college in Bangalore, and learn the movement science, so it becomes their expertise to pinpoint the injury and the cause for the same. Rehabilitation and prevention are focus areas of physiotherapists.
Do you want to know which problems come under a physiotherapist's arena?
Neck and back pain
Respiratory problems like pneumonia and asthma
Disability because of heart problems especially post bypass surgery.
Bowel bladder and pelvic related issues related to childbirth and otherwise.
Parkinson's disease and multiple sclerosis leading to loss of mobility and its complications.
Problems in the bones, joints, muscles, tendons, and ligaments, such as arthritis and the after-effects of amputation.
Pain, swelling, stiffness, fatigue, and loss of muscle strength, for example during cancer treatment, or palliative care. Cancer
rehabilitation has gained prominence of late.
Neurological conditions like stroke and its weakness
After you have gone through the above you may realize physiotherapy is a lucrative profession. It adds life to years. It is a profession that has bloomed in the last couple of years. More people getting more and more aware of it as a treatment option. at Acharya, we are determined to be among the best Physiotherapy colleges in Bangalore. multinational companies investigate or take the help of a physiotherapist to solve their ergonomic problems. You may need a surgeon to fix a bone, but to mobilize the same you need a physiotherapist. Also, since the treatment is subjective to each patient, it's not a pill to be popped in alone, but continuous monitoring a patient and revitalize them to their best abilities. Well to end, I am glad that I choose Physiotherapy over MBBS when I was 18. Maybe a too young age to decide but reading it all you should be able to decide where you stand. As a physiotherapist I am an academician, I am versatile and independent, I am a team worker and above all a research scholar looking for my professional growth and simultaneously using my skills for the betterment of the institution I am in. I had not thought about it all back then, but I am glad I had someone to tell me as I do now. Don't get too late to decide what you want in life.