In a B.Tech (Bachelor of Technology ) or a  B.E.( Bachelor of Engineering) in Aeronautical Engineering programme,  an undergraduate learns design, development, testing, and production of an aircraft or related systems.
An engineering graduate needs to apply mathematics, theory, knowledge, and problem-solving skills to transform flight-related concepts into functioning aeronautical designs that are then built and operated. Acharya is one of the best Aeronautical engineering colleges in Bangalore. With an eye on the sky, these engineers also remain at the forefront of some of the field's most exciting innovations – from autonomous airship-fixing robots, to high-flying hoverboards and solar-powered Internet drones. Some of the courses an engineering graduate gets to learn are Aerodynamics, aircraft propulsion, aircraft structures, heat transfer, fluid mechanics, flight mechanics, computational fluid dynamics, gas turbine technology, material science, avionics, aircraft stability, and control.
Difference between AERONAUTICAL and AEROSPACE Engineering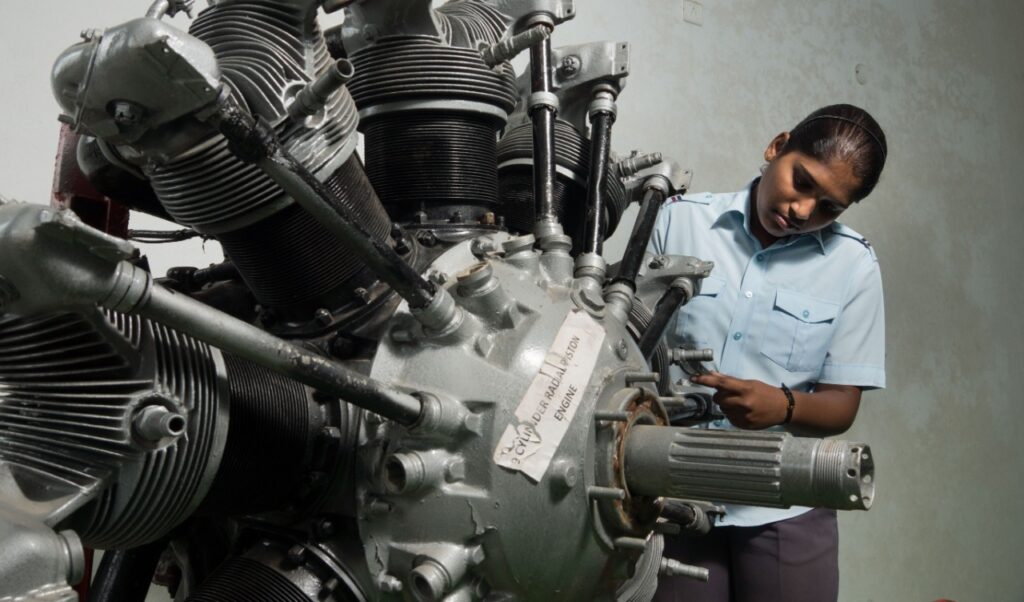 Though both the engineering fields such as aeronautical engineering and aerospace engineering apply the same principles, a critical distinction exists between them while designing the vehicles for air and space.
The field of aeronautics and aeronautical engineering deals with the design of aircraft, airplanes, missiles, helicopters – or any similar vehicles that are designed to operate within the confines of the earth's atmosphere.  Aerospace Engineering at Acharya is a broader discipline that considers operation both in air and space and covers both aeronautical engineering and astronautical engineering. Being among the top Engineering college in Bangalore, we are committed to serving with the best learning and co-curricular exposure.   So, an aerospace engineer needs to understand flight conditions both in the presence of an atmosphere and without one when seeking to design vehicles bound for use in space.
Eligibility Criteria
Aeronautical Engineering is a promising field and is regarded as one of the leading courses when it comes to Engineering. The basic requirement for Aeronautical Engineering is a strong command over Physics, Chemistry and Mathematics.
Any student who has passed class 12th (10 + 2) / Intermediate exams with aggregate of 50 % marks in science stream (Physics / Mathematics/ Chemistry separately) Plus rank in the qualifying entrance exam conducted for the admission into B.Tech. / B.E. programmes are eligible to apply for Aerospace / Aeronautical Engineering courses.
Duration: 4 years Full Time
Students must complete his / her diploma in Aeronautical / Mechanical Engineering and are eligible to apply for Aerospace / Aeronautical Engineering courses.

Duration: 3 years Full Time
Admission Process: Aeronautical Engineering
In order to get admission into undergraduate programmes like B.E./ B.Tech in Aeronautical Engineering, students need to appear in JEE Main exam, whereas, for Post Graduate courses such as M.Tech, aspirants need to appear in the GATE exam.
All NITs and IITs conduct the engineering programme in Aeronautical Engineering. There are also some other colleges and universities In India that offers courses in Aeronautical engineering.
Besides the JEE Main exam for UG courses and GATE exam for PG courses some universities and institutes also conduct their own entrance exam to provide admission to students.
Career Opportunities for Aeronautical Engineers
Since Aeronautical Engineers have sound knowledge of aerospace materials, aerodynamics, flight mechanics and structure propulsion, they can easily find jobs in ISRO (Indian Space Research Organization) and The Ministry of Defense. After doing Bachelors in Aeronautical Engineering, one can jobs with lucrative salary packages with reputed organizations such as National Aeronautical Laboratory, Civil Aviation Department, Hindustan Aeronautics Limited (HAL) and Defense Research and Development Laboratories (DRDO).
Career prospects for Aeronautical Engineers are bright and promise a great future ahead. Other than India, Aerospace Engineers can find jobs in countries such as USA, France, UK, and Germany. There is a huge demand for Aerospace Engineers in private companies such as Airbus and prestigious research centers such as NASA.
Employment Opportunities after Aeronautical Engineering
The areas of employment in Aeronautical Engineering are varied and depend upon a candidate's specialization and aptitude. Some of the key areas of employment for Aeronautical Engineering are:
Space Research centers like NASA and ISRO
Aeronautical Development Establishments
Aeronautical Laboratories
Aircraft manufacturing companies
Airlines
Defense Research and Development Organizations
Defense services
Department of Civil Aviation
Flying clubs
Government owned air services
Private airlines
ABOUT US
The Department of Aeronautical Engineering, Acharya Institute of Technology is affiliated to Visvesvaraya Technological University (VTU), Belgaum.
The department of Aeronautical Engineering was established in 2011 with a sanctioned intake of 60 students. We are the best among the top Aeronautical Engineering Colleges and other professional courses at Karnataka.
Our Vision
The department aspires to be exemplary in Aeronautical Engineering for an ever-changing society.
 Our Mission
To offer outcome-based education that emphasizes on experiential learning.
To enable a conducive environment that promotes interdisciplinary learning and interaction with the external world.
To nurture professionals through holistic education engrossed in individual growth, discipline, integrity, ethics and social sensitivity.
To intensify industry-institution interface leading to competency enhancement and entrepreneurship.
To enthuse about progress in technologies that are sustainable and inclusive, benefiting all sections of the society.
What makes Acharya one of the best Aeronautical Engineering colleges in Bangalore?
The programme of BE in Aeronautical Engineering(AE) of Acharya Institute of Technology(AIT) has been one of the most-sought ones for aspiring graduates every year. The strong reason for Acharya to be among the best engineering colleges lies in incorporating newer technologies into the curriculum delivery, creating freedom for both faculty and students to self-discover the opportunities to progress, interfacing with the external world engaged in promoting both research and educating in aeronautical engineering and enabling students' aspiration to explore newer horizons in aeronautical engineering. The programme of AE in AIT. Our students are going to global universities and getting placed in most admired companies while our faculties are so respected in their fields of specializations and continue to inspire the students through their research and publication outcomes. 
Also read: Career Opportunities Post Covid
The programme has experienced faculty with specialization in domains like computational fluid dynamics, aerodynamics, aircraft structures, propulsion, thermodynamics, composites, and avionics. This is unique with Acharya and makes us a differentiator from others offering the same programme. Some of the areas of the extensive research are  Computational Wind Engineering and Industrial Aerodynamics, Built Environment, Two-Phase Change Process, Icing Research, High and Low Reynolds Number Flow, Composite Fan Blade Design and Analysis, Solar Energy Collector (parabolic), Flat Unglazed Transpired Collector and LES/RANS Hybrid Model. The department has a Research Center to promote research activities in aspiring Ph.D. students and faculty members in their field of specializations. Some of the specific information about  the department are :
Department has well established laboratories and also undertakes consultancy works using the Aeronautical Lab facilities.
Faculties and students have published 45 and above papers in National & International journals and authored 3 books. 
Department has submitted 15 Research proposals so far to different funding agencies. 
Dept has received funding from KSCST, Govt. of Karnataka, Institution of Engineers (IE), Vision Group on Science and Technology (VGST), Department of Science and Technology (DST). 
Department has signed MOU with National Design and Research Forum (NDRF), National Aerospace Laboratories (NAL), Throttle Aerospace Systems Pvt Ltd, ACRi Infotech Pvt Ltd and Avistrat Academy of Aerospace and Design.
Department promotes national and international internships- Students are encouraged to intern at HAL, GMR AeroTechmic, ACRi, NAL, Air India, Mahindra Aerospace, ISRO. 
Our students have interned in Carlton University, Canada and AE is in the process of signing MoU with international Universities for exchange and research program. 
Department also undertakes consultancy works using Aeronautical Lab facilities. 
Department contributes regularly for the upgradation of BE (Aeronautical Engg) syllabus under VTU. 
The Department actively organizes regular educational visits to various facilities like AFTC Bengaluru, NAL, HAL, GMR Hyderabad, ISRO center's in Mahendragiri, Trivandrum, Air India, Mumbai. 
Also, Read This Post :