What is Aeronautical Engineering?
Aeronautical Engineering refers to the study of designing, manufacturing and operating of aircraft. This course is considered to be one of the most elite courses in the field of engineering. Engineers are trained to understand, design, develop and maintain aircraft. The emergence of this branch could be traced back to the 19th century. With new technological advancements in this field, the young generation is seen to be taking interest in pursuing a career in the same. There are numerous aeronautical engineering colleges in India that work towards fulfilling the aspirations of the coming generation. Acharya Institute of Technology is grown up as one of the best aeronautical engineering colleges in Bangalore offering a well-equipped Flight Simulation Lab. Let's dive deeper into the various aspects of aeronautical engineering, and what Aeronautical Engineering Colleges has to offer.
What do you Learn?
Students who are looking forward to venturing into this domain shall be well versed with the subjects that Aeronautical Engineering Colleges in Bangalore provide.
Following are the specializations.
Aeromechanics.
Space and Science.
Structural Engineering and Design.
Communication and Instrumentation.
Aircraft Materials.
How to become an Aeronautical Engineer?
A professional with strong calculative skills and strong observation skills are required in Aeronautical Engineering.
Students who study these fields typically take classes as part of their undergraduate or graduate studies, which are available at all levels, from undergraduate to doctoral. At Acharya we offer the best BE/B Tech in Aeronautical Engineering.
It is required that students study physics and mathematics in school before enrolling in a course in aeronautical engineering. Aviation and aerospace courses prepare candidates for careers in the field.
In these courses, candidates get hands-on experience in manufacturing, mechanics, and engineering of aircraft that will help them become air traffic controllers and maintenance technicians in the future.
Aeronautical Engineering: Course Curriculum
Mathematics
Flight Dynamics
Engineering Physics
Aircraft Structures
Engineering Chemistry
Control Engineering
Computer Programming
Environmental Science and Engineering
Engineering Graphics
Aircraft Structures Laboratory
Computer Practices Laboratory
Communication and Soft Skills- Laboratory Based
Engineering Practices Laboratory
Principles of Management
Physics and Chemistry Laboratory
Finite Element Methods
Transforms and Partial Differential Equations
Vibrations and Elements of Aeroelasticity
Manufacturing Technology
Composite Materials and Structures
Aero Engineering Thermodynamics
Aircraft Materials and Processes
Fluid Mechanics and Machinery
Aero Engine and Airframe
Solid Mechanics
Aircraft Design Project
Elements of Aeronautics
Computer Aided Simulation
Strength of Materials Laboratory
Total Quality Management
Fluid Mechanics and Machinery Laboratory
Avionics
Thermodynamics Laboratory
Computational Fluid Dynamics
CAM and Manufacturing Laboratory
Experimental Stress Analysis
Numerical Methods
Aircraft Design Project
Aerodynamics
Aircraft Systems Laboratory
Aircraft Systems and Instruments
Flight Integration Systems and Control Laboratory
Mechanics of Machines
Wind Tunnel Techniques
Aircraft Structures
Propulsion
Aircraft Structures Laboratory
Aerodynamics Laboratory
CAD and Aircraft Component Drawing
Aeronautical Engineering: Top Job Profiles
There is a wide spectrum of opportunities that Aeronautical Engineering courses provide for youth. For the ones who receive their degree in this field, there is an abundance of scope in the following areas.
Defense Services: Aircraft, missiles, and spacecraft are designed, developed, tested, and produced with the aid of aerospace engineers. One can also enlist in the Indian Army's EME (Electronics and Mechanical Engineering) Corps, where they can become Maintenance Engineers for Army Aircraft after undergoing rigorous training.
Government Research Labs:
Defense Research and Development Organization (DRDO).
National Aerospace Laboratories (NAL).
Hindustan Aeronautics Limited (HAL).
Indian Space Research Organization (ISRO).
Gas Turbine Research Establishment (GTRE).
Commercial Flights:
Air India
Indigo
 SpiceJet
Air Asia
Vistara, etc.
Directorate General of Civil Aviation
Designing and Manufacturing of Drone
Private Industries like Airbus,Boeing, Tata Aerospace and Defense
Aeronautical Development Agency
Aeronautical Development Establishment
Aeronautical Engineering Eligibility Criteria
Pass in 10+2 / Higher Secondary (HS) / Pre University (PUC) / 'A' Level (with 12 years of schooling) or its equivalent with English as one of the languages. Shall have secured a minimum of 45% marks in aggregate in Physics, Mathematics and any one of the following : Chemistry, Biology, Computer Science, Electronics. AIT admits students as per prevailing rules and regulations of VTU.
Salary and Job Opportunities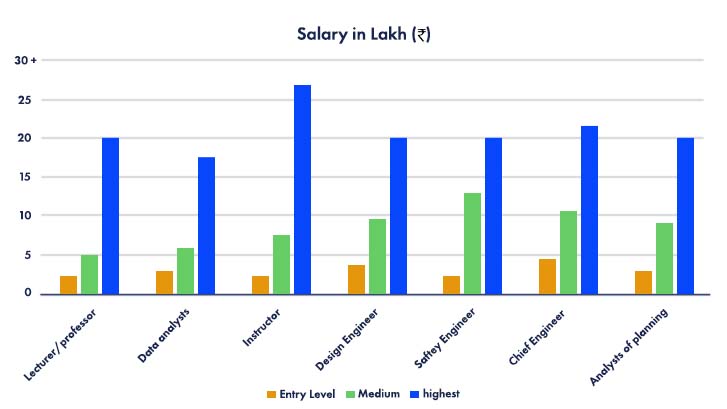 At the beginning of the career, an aerospace engineer can anticipate to make an average salary of Rs. 35,000 per month, which can grow up to a maximum of Rs. 200,000 per month. However, depending on the job descriptions, salaries may differ. For instance:
Design Engineer: The design engineer is in charge of creating airplanes and helicopters that fly within the Earth's atmosphere. The average annual salary ranges from 4 to 5 lakhs INR.
Data analysts contribute their technical expertise to ensure that the data is precise and of a high caliber. They then process, create, and present the data in ways that help people, businesses, and organizations come to more informed decisions. For this position, the annual remuneration ranges from INR 3 to 6 lakhs.
Analysts of planning: A planning analyst's job description permits cost-cutting, sales-maximizing, and profit-increasing tactics. The average remuneration package will be between INR 5 and 6 lakhs per year.
The Aeronautical Engineering course is considered to be the highest paid career in almost all nations, including India. It is one of the most in-demand career choices in the developing aviation industry.
The design and construction of airplanes, as well as the automotive, fan, turbine, high-speed train, and unmanned aerial vehicle (UAV) sectors, are all potential career paths for Aeronautical Engineering in India. Aeronautical engineers have a substantial impact on all engineering specializations anywhere there is a relationship between a product and the air, such as in race vehicles, premium fans, wind turbines, etc. The aerospace industry in India is one of the fastest growing in the world and is currently in a pivotal phase.
The increasing interest in air and space travel necessitates a high level of academic ability in the subjects involved in this particular discipline. Given the accelerating rate of advancement, the demand for informed and professional aerospace engineers will only increase.
The rapidly expanding aviation sector in India is the cause of the broad application of aeronautical engineering. India, which is currently the third-largest market in the world for civil aviation, has the potential to surpass China. Demand for Aeronautical Engineers is increasing rapidly as a result of the numerous job vacancies in government and private sectors.
India has some of the most difficult and promising futures for aircraft engineering. Every day, aeronautical engineers are developing cutting-edge technology for the aviation sector. It is one of the most well-known and well paid engineering job profiles.
India has a huge population of intelligent, enthusiastic, and driven young people who can progress the aviation industry.
The field of Aeronautical Engineering requires a tremendous level of dedication and devotion. We require universities that train students to work in the aerospace industry.
From a psychological perspective, environment and surroundings have a significant impact on how well people do in their particular disciplines. When this factor is taken into account, Bengaluru has consistently stood out among all the other Indian cities. Bengaluru is one of the best places for education, particularly for undergraduate programmes. Speaking of colleges in Bangalore, Acharya Institutes is one such college that offers its students a student-friendly environment. Acharya Institute of Technology is one of the best Aeronautical Engineering colleges in Karnataka that provides BE and B.Tech in aeronautical engineering respectively. Acharya Institute of Technology not only focuses on academic excellence of a student but also teaches them how to face challenges, acknowledge the right opportunities and become holistically equipped in the outside world.